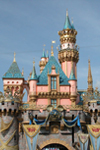 Disneyland® w. skip the line
Price from € 87.80
Prebook your entrance tickets to Disneyland® from home and skip the line to both Disneyland Park and Walt Disney Studios Park. It's guaranteed fun for the whole family!

Highlights:
- Visit Disneyland Paris & Walt Disney Studios
- Skip the line with prebooked tickets
- Try all the fun rides
- See the fantastic shows and street parades
- Free entrance for children under age 3

Enjoy a Day of Fun in Disneyland Paris
Disneyland Paris located 32 kilometers east of the center of Paris, and it is the most visited theme park in all of France and Europe. Here fairytales come to live across five incredible lands filled with classic attractions, fun rides, incredible shows and impressive street parades.

Your prebooked tickets gives access to both Park Disneyland Paris and Park Walt Disney Studios. If you want to visit Disneyland® Paris, but want to avoid the long lines to the ticket office, then make sure to book from home.

If you would like transportation to and from Disneyland Paris, then try our tour to Disneyland® by bus.

How do I get my tickets?
Shortly after your booking is complete your e-ticket will be send directly to your email, just print it out and bring it with you to our agent PARISCityVISION in Paris.

How does it work?
Once you get to Paris, go to our agent PARISCityVISION's office to exchange your e-tickets to your original tickets before visiting Disneyland.

The address will be on your e-tickets.

How long can I stay at Disneyland® Paris?
Your entrance ticket to Disneyland® Paris is vaild for one full day, so you can come when the park opens and leave when it closes again at night.