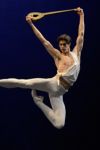 Midsummer Nights Dream / Apollo
Royal Opera House
The Mariinsky Ballet celebrate George Balanchine's work in an exhilarating mixed programme: A Midsummer Night's Dream and Apollo. The great Russian-American choreographer was one of the most significant figures of 20th-century ballet. He was born in St Petersburg and performed with the Mariinsky Ballet from the age of 11, before joining Diaghilev's Ballets Russes in 1924.

A Midsummer Night's Dream (1962) was Balanchine's first original full-length ballet. He drew on his life-long love of Shakespeare and Mendelssohn's incidental to create a joyous narrative ballet full of wit and invention.

Apollo (1928) was Balanchine's first work, and the beginning of his brilliant collaboration with Stravinsky. This youthful work is a landmark in 20th-century ballet, exhibiting Balanchine's distinctive neoclassical aesthetic and unique musical sensitivity.