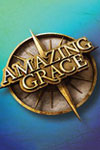 Amazing Grace
Nederlander Theatre
Price from R 1567.80
Amazing Grace is based on the awe-inspiring true story behind the world's most beloved song. The musical is a captivating tale of romance, rebellion and redemption. We follow a man whose incredible journey ignited a historic wave of change that gave birth to the abolitionist movement.

Highlights:
- Experience a moving musical based on a true story
- Get your tickets sent to your email

Experience Amazing Grace the Musical
An unforgettable musical saga, Amazing Grace captures the spirit of history's sweetest and most powerful sound: freedom.

How do I get my tickets?
Shortly after your booking is complete, you will receive an e-ticket by email. Please print out your ticket and bring it with you to the theater.