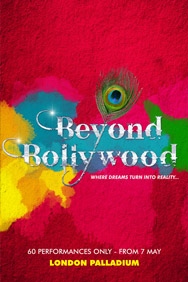 Beyond Bollywood
London Palladium
Price from R 485.40
The UK premiere of Beyond Bollywood following sold out Mumbai shows. How far would you go to bring a dream to life? Beyond Bollywood is not just a show; it is a monsoon of emotion that brings the fire, hear and desire of Indian folk dance direct to the heart of London.

Shaily Shergill leaves behind her home in Germany to journey to India in the hope of fulfilling her mother's dying wish, to revive her family's failing theatre. Can Shally fulfill her mother's dying wish ans stage the ultimate show?

Beyond Bollywood is a colourful dance extravaganza, which takes audiences on a truly authentic cultural tour of India.

Beyond Bollywood is written, choreographed and directed by Rajeev Goswami, with lyrics by Irfan Siddiqui and featuring an original score by Salim Sulaiman, the very best of Bollywood's creative talent bring this spectacular theatrical event to life for 8 weeks only.