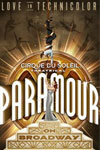 Cirque du Soleil Paramour
Lyric Theatre
Price from R 1783.90
Prepare to be swept off your feet by Paramour, a wild and passionate new experience that unites the signature spectacle of Cirque du Soleil with the storytelling magic and music that defines Broadway.

Highlights:
- Experience a Cirque du Soleil show
- Get the best seats within your chosen category
- Enjoy a fascinating show like no other

Experience Cirque du Soleil Paramour
Set in the glamorous world of Golden Age Hollywood, this groundbreaking event spins the tale of a beautiful young actress forced to choose between love and fame.

Paramour seamlessly blends a romantic plotline, musical numbers and impressive dancing with heart-pounding acrobatics.

The cast brings together the world's best circus artists and Broadway standouts, and Paramour will transport you to a world of sublime beauty and emotion as the show plays out.

How do I get my tickets?
Shortly after your booking is complete, you will receive an e-ticket by email. Just print out your ticket and bring it with you to the theater.


Important information:
- When booking tickets for a musical in New York, you will always be granted best seats available at the time of your booking. We have no influence on the exact seat and row number, as it is solely the theater that can appoint the seats. Within 36 hours after you have received your first booking confirmation, you'll receive an additional confirmation with your exact seats. These cannot be changed or altered as they were the best available seats at the time of your booking.