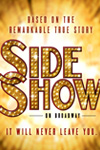 Side Show
St. James Theatre
Price from R 1673.60
From the Academy Award-winning writer of Chicago and director of Dreamgirls, Side Show is a dazzling musical with a "supercharged score" (New York Times) from the composer of Dreamgirls.

The story is set against the backdrop of 1920's and 30's show business, where the worlds of carnival, vaudeville, and Hollywood glamour are blended into one.

This vivid musical is based on the remarkable true story of the Hilton twins, Daisy and Violet, who were legends of their time. The very thing that makes them different....makes them extraordinary.