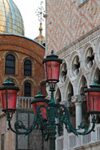 Tour of the Doge's Palace
Price from R 1045.60
Visit the magnificient Doge's Palace in Venice and learn about the very best and the very worst of Venice's history - from vast paintings by Tintoretto and Veronese to the wooden slot where accusations of treason were slipped to the fearsome Secret Police.

Highlights:
- Get 1 hour and 15 minutes guided tour of the Doge's Palace
- See areas of the Doge's Palace not normally open to the general public – like the cell from which Casanova escaped and the palace torture chamber
- The ticket includes also the visit of the rest of main areas of the Doge's Palace
- The opportunity to walk through the 'Bridge of Sighs' on your own
Explore the Secrets of the Doge's Palace
This tour of the palace combines a guided visit to the Secret Itineraries with a free visit to Doge's Chambers, assuring you get the most complete tour of the Doge's Palace. Admire the frescos by Tintoretto to show Justice presenting herself to the Doge while you think of all the feet that have shuffled on the tiles you stand on – ambassadors waited nervously in this very spot for an audience with the Doge in the Hall of Four Doors.
For all of the splendor that its corridors hold, you would never guess what is hidden in the attic upstairs in the Doge's Palace. Follow your guide to the attic prison where Venice's famous lover and writer Casanova was kept for months before he managed a successful escape. Peering around this dark room, considering the security that must have existed, it's almost impossible to imagine how he did it. Fortunately, your guide has the answer.
Casanova was not the only man to see the Doge's Palace on less than favorable terms. When your tour is over, you'll have the opportunity to walk the Bridge of Sighs – so named for the prisoners that walked its length on their way to cells across the canal. As they took their last look at beautiful Venice they couldn't help but sigh. Your guide says goodbye, you can cross over to the 16th century New Prisons and see the graffiti that lines cells here, protestations of innocence etched out on the walls.
The tour is operated in English.
How do I get my tickets?
Shortly after your booking is complete your e-ticket will be send directly to your email, just print it out and bring it on your tour.
Where does the tour begin?
The tour starts at the foot of Ponte della Paglia, the bridge with the view of the Bridge of Sighs, just outside in front of the Doge's Palace.

How long does the tour last?
The tour lasts 1 hour and 15 minutes.
Are there children's tickets?
Yes, children's tickets are available for children between age 6-14. Children under 6 years old are not permitted on this tour.

Important information:
- The tour ends at the Doge's Palace.
- The tour involves a fair amount of walking, and there are a number of steep staircases. Comfortable shoes are recommended.
- We regret that we are unable to accommodate guests with wheelchairs or any impairments requiring special assistance. We are also unable to accommodate strollers or baby carriages on our group tours.
- Photography is prohobited inside the Doge's Palace.