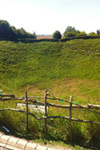 Tour to the Somme Battlefields
Price from R 2823.00
Enjoy a guided tour to the Somme Battlefields and learn about happened in the region during World War I. On this historic tour, you'll visit the main battlefields and historical sites of the region.

Highlights:
- Visit the Somme Battlefields from 1916
- Learn about the main battlefields and historic sites
- Enjoy round trip transportation from Paris
- Visit the Museum of the Great War in Péronne

Discover the Somme Battlefields
Hop onboard our luxury air-conditioned coach and head northward to the Somme region.
Visit the city of Villers-Bretonneux where many Australian soldiers came to help the British army stop the German troops advancing in 1918. We'll make a stop at La Boisselle to see the Lochnagar Carter, giant mine hole of about 80 meters deep.

We'll continue through the village Thiepval, one of the major areas of the Somme Battle which houses the Franco-British Memorial and Cemetery of the World War I today. We'll also visit the Beaumont-Hamel village which has been taken over by the Germans against Terre-Neuve soldiers.
After a scenic 1-hour drive through the French countryside, we'll arrive in Péronne. Here you'll learn more about World War I at the impressive Museum of the Great War in Péronne. It's the first museum in the world dedicated entirely to World War I.

While in Péronne you'll get some free time to grab some lunch on your own. Your guide will show you some restaurants close to the Museum of the Great War.

We'll be back in Paris around 8 PM, depending on traffic.
How do I get my tickets?
Shortly after your booking is complete your e-ticket will be sent directly to your email, just print it out and bring it on your tour.
Where does the tour begin?
The tour starts at the PARISCityVISION office. The address will be clearly stated on your e-ticket. Please be there 30 minutes before the tour starts.
Where does the tour end?
The tour ends back at the PARISCityVISION office in Paris.

How long does the tour last?
The tour lasts approx. 13 hours.
What languages is the tour available in?
The tour is available in English and French.
Are there children's tickets?
Yes, children's tickets are available for children between age 3-11. Children between under 3 are free when accompanied by a paying adult.