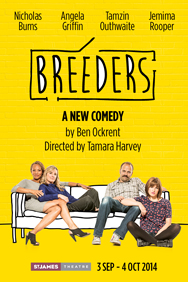 Breeders
St James Theatre
Price from R 569.50
Andrea and her wife Caroline have it all: great jobs, a loving relationship and a new home. There's just one thing missing: a baby.

Amidst the drink-sodden traditions of a family Christmas, they have an idea: if nature can't give them a child that shares both their genes, perhaps Andrea's under-achieving brother Jimmy can? When he and his girlfriend Sharon agree, the four are forced closer than any family expects to be.

Will this be the perfect solution? Or a recipe for disaster?