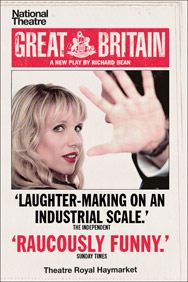 Great Britain
Theatre Royal Haymarket
Price from R 283.30
When the ambitious news editor of red-top The Free Press, Paige Britain, learns about phone-hacking by an innocent informant, it doesn't take long before she's blackmailing her way into positions of power and influence with the Metroploitan Police and the leader of the Conservative Party.

Richard 'One Man, Two Guv'nors' Bean's new play is an anarchic, foul-mouthed satire about the press, the police and the political establishment.

Great Britain is just as hilarious as One Man, Two Guv'nors, but with the added dimension that it's bursting with razor-sharp observations about contemporary society.
Great Britain Reviews
"Laughter-making on an industrial scale"
The Independent
---
"A timely look at the tangled relaionship between the press, politicicans and the police. Barbed and funny."
Evening Standard
---