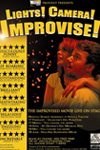 Lights! Camera! Improvise!
Duchess Theatre
Mischief is an improvised theatre company formed from students and graduates of the London Academy of Music and Dramatic Art.

The Mischief Theatre company's award winning improvised movie, live on stage. You choose the genre, location and title and an electric team of improvisers create a magical new movie before your very eyes, complete with awesome action sequences, hilarious 'DVD extras' and thrilling live film score.