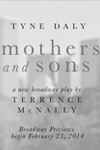 Mothers and Sons
Golden Theatre
Price from R 1744.10
Mothers and Sons on Broadway in New York is a warm and humorous play. Book your tickets for Mothers and Sons on Broadway in New York here!

Tackling national themes in the most intimate of settings, Mothers and Sons is Terrence McNally at his most uncompromising, compassionate and revealing.

Twenty years after her son's death, a mother turns up at the door of his former lover, who is now married to another man and has a young son. This man and his family challenge the woman to confront the truths of their shared past, and a future she never imagined. Values clash as they struggle to reconcile their vastly different worlds.

As powerful and provocative as it is warm and humorous, Mothers and Sons explores the very essence of family and forgiveness in a rapidly changing society.