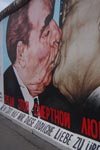 The Berlin Wall – Berlin behind the Iron Curtain
Price from € 12.00
Our Cold War Berlin Wall Walking Tour through Berlin will show you how the Berlin's lived in a divided city. See how Berlin was and survived behind the Iron Curtain. Book your tickets for Cold War on Foot tour in Berlin here!

For decades after the Second World War, there were two Berlins: One a bastion of the West behind the Iron Curtain, the other a capital city eager to demonstrate the superiority of Communism.
Learn how the Allied Powers divided Berlin into four sectors at the end of the War and see where three of those sectors converged at Potsdamer Platz.
Walk down "Stalinallee", the representative boulevard in the East with its wedding-cake architecture designed to illustrate Communist might during the Cold War.
Visit the Wall Memorial at Bernauer Strasse and get a sense of the complexity of the security measures designed to prevent East Germans from reaching West Berlin.
Learn about the risks many nonetheless took to escape and thus thwart the efforts of the notorious state security service, the Stasi.

Our Cold War Walking Tour ends at the longest stretch of the Wall still intact, the Eastside Gallery, which has been turned into an impressive open-air artwork.

IMPORTANT INFORMATION:
- The tour is in English.
- Duration is about 4 hours.
- The tour is on April to October on Fridays at 10.00am.
- The tour starts the taxi stand outside Berlin Zoo station (Bahnhof Zoologischer Garten). Here you will find the guide from Original Berlin Walks.!
- As this tour incl. rides with the Berlin Subway, Please bring an AB public day pass transport ticket or buy one from the guide (2013 Price was €6.70).
- Youth price is for all under 26 years old.
- Children under 12 years old is free if they are together with a paying adult.
- The tour is on rain or shine! So please wear clothes and shoes according to weather!
- There is no food or drinks incl. in the price!
- Our Cold War Walking Tour Berlin ends at the Eastside Gallery.