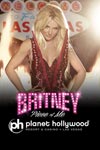 Britney Spears: Piece of Me
AXIS Theater at Planet Hollywood
Price from R 1862.40
Britney Spears ready to take over Las Vegas with her new hot show Britney: Piece of Me in AXIS Theatre by Planet Hollywood.

Britney Spears performs all her infectious dance songs, as well as tracks from her latest album. Her new show is must more than a recreation of her music videos. The show is much more thrilling. Whether Britney's flying across stage, singing in a ring of fire or dancing in front of multiple mirrors, this diva knows just how to work it.

Located inside The Axis, the 4,500-seat theater provides a pulsating Las Vegas concert experience. With state-of-the-art light and sound effects, the venue feels like a nightclub. The Axis houses the world's largest indoor projection screen, resulting in an explosive theatrical experience. Get ready to relive your favorite Britney moments and dance the night away.

Britney: Piece of Me proves to be a sexy, action-packed Vegas show from start to finish.