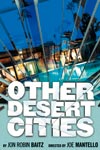 Other Desert Cities
Booth Theatre
Price from R 2503.40
See Other Desert Cities on Broadway in New York. Other Desert Cities is a play about family trouble. Book tickets to Other Desert Cities on Broadway here!

Brooke returns to her home after years of absence for Christmas. She announces that she is about to publish her memoirs revealing a tragic family history that no one wants to face.

Starring several known actors Rachel Griffiths (Brothers & Sisters ) Stockard Channing (Grease, The West Wing ) and Judith Light (Who's the Boss )

NB : When booking tickets for a musical in New York you will always be granted best seats available at the time of your booking. We have no influence on the exact seat and row number, as it is solely the theatre that can appoint the seats from best availability. Within 36 hours after you have received your first booking confirmation, your will receive an additional one showing your exact seats! These cannot be changed or altered in any way as they were the best available seats at the time of your booking!