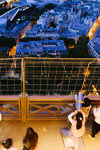 Eiffel Tower Sunset Tour
Price from € 61.00
Visit the iconic Eiffel Tower at sunset! Your guide will take you to the 2. floor of the Eiffel Tower and tell you about its history, architecture, and the interesting stories about the monument.

Highlights:
- Skip the line to the Eiffel Tower
- Get to the 2. level
- Enjoy the view over Paris at sunset
- Learn about the iconic monument
- Enjoy a small group (max. 20)

Visit the Eiffel Tower at Sunset
Built for the World's Fair of 1889, the Eiffel Tower stands 324 meters above Paris and offers the most spectacular view over all of the city. Your knowledgeable guide will take you straight to the 2. floor where he'll tell you about the history, architecture, and interesting stories about the monument.

Your group is limited to 20 people, so you can count on a great private and personal experience. As the sky paints itself in pale shades of pinks and blues you will take in breathtaking views of the city against the backdrop of a spectacular Parisian sunset.

There is nothing quite like the views from the Eiffel Tower and this experience offers spectacular once in a lifetime photo opportunities.

At the end of the tour, you are welcome to visit the Summit, the highest floor, and stay there until closing time on your own. Tickets can be bought on the 2. floor.

How do I get my tickets?
Shortly after your booking is complete your e-ticket will be sent directly to your email, just print it out and bring it with you to the Fat Tire Tours office to exchange your e-ticket.
Where does the tour start?
The tour starts at the Fat Tire Tours office, 5-minutes from the Eiffel Tower. The address will be on your e-ticket. Please be there 15 minutes before your tour starts.

How long does the tour last?
The tour lasts 2 hours, plus however long you wish you spend on your own after the tour.
Are there children's tickets?
No, but children under age 4 are free when accompanied by a paying adult.